This is the third annual Salute to Sable Island hosted by the White Point Beach Resort. The series began with enthusiastic White Point staff who wanted to create an event that would provide a unique experience for White Point guests and would also serve as a fundraiser to support programs that benefit Sable Island through research and public outreach.
The upcoming event—beginning at 1:30 pm on Saturday, and ending at 11:30 am on Sunday—features speakers from the Sable Island Institute, Parks Canada, and the arts community.
Saturday's illustrated talks will begin with a presentation about the development of the Management Plan for the Sable Island National Park Reserve, a topic that is in the news now as Parks Canada seeks public input, a process that had started with the Let's Talk Sable Island! web-based survey.
This will be followed by talks about the island's history and natural history, with a focus on the Sable Island horses. During the afternoon, the Sable Island Institute will set up a touch table where people can have a close look at and handle an assortment of artifacts from the island such as horse and seal skulls, shells, and beached materials. Saturday's program will conclude with a dinner talk describing a year-in-the-life of a group of Sable horses, followed by an opportunity for White Point guests to relax and mingle in the Founder's Lounge.
Sunday morning's program will be devoted to the arts, and includes a presentation and panel discussion about Sable Island in film, photography, word, and dance.
For details about the January 2019 program, accommodations, registration, and prices, please visit the White Point Beach Resort website, Salute to Sable Island and Her Legendary Horses.
For a review of last January's event, see Salute to Sable Island, January 2018.
A sketch published in "The Secrets of Sable Island" by Charles Halleck, Harper's New Monthly Magazine, 1866.
Timothy Frasier, Saint Mary's University and member of the Advisory Council of the Sable Island Institute, will speak about the history of the Sable Island horses.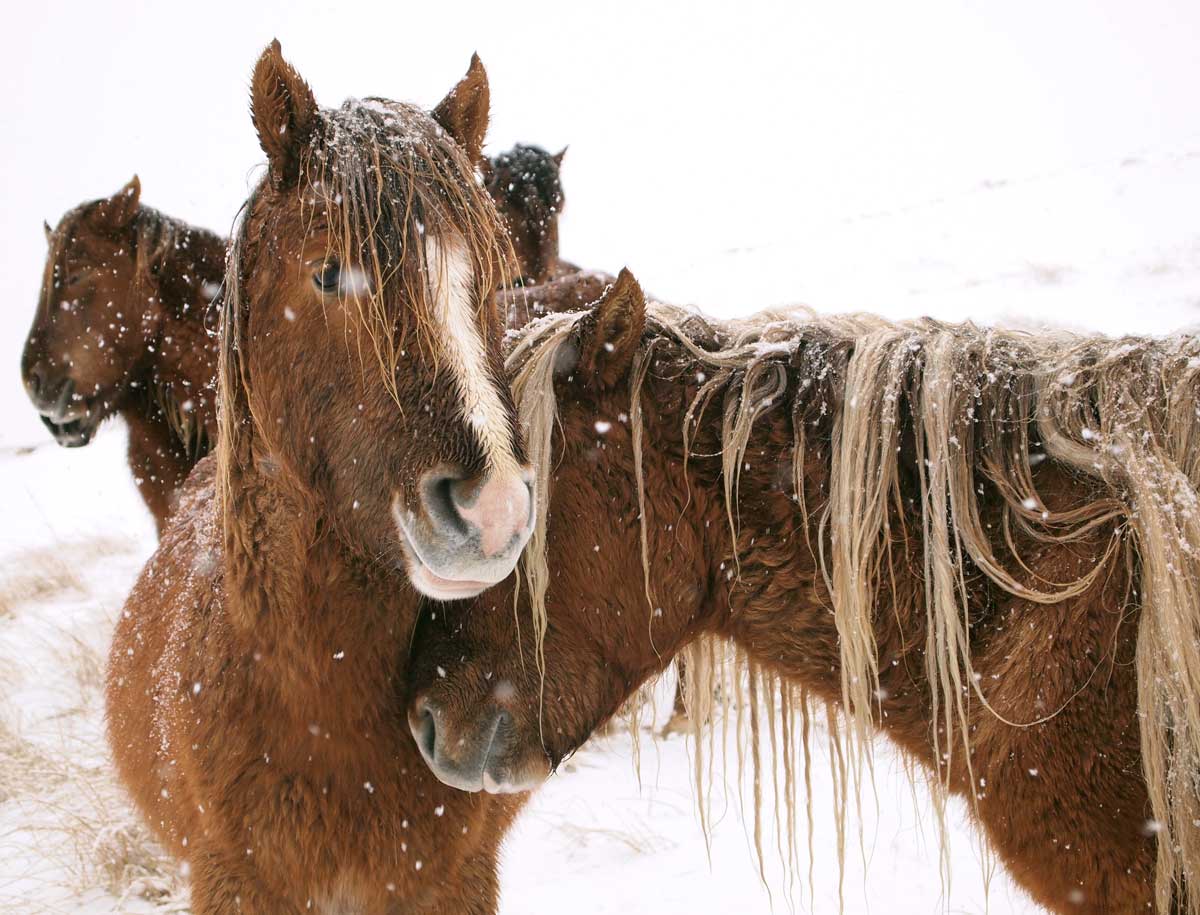 Two Sable Island horses—both chestnuts—standing together during a snowfall.
Andy Horn, Dalhousie University and Director of Science for the Sable Island Institute, will speak about the island's ecology with a review of what is known about the horses and their Sable habitat.
Two Sable Island foals on a north beach dune in spring. The other band members are nearby grazing on the new growth of beach pea and marram grass.
After dinner on Saturday evening, Zoe Lucas, Sable Island Institute, will share some stories about a year-in-the-life of a young horse and his family band.
Filmmaker Jacquelyn Mills recording sound in a stand of cordgrass swaying in the wind.
On Sunday morning, Jacky Mills will speak about her experience working on Sable Island and will describe some of the experimental techniques she is using in her Sable project. Then Jacky will join the other artists participating in the arts panel for a discussion about Sable Island in their work: children's author Marcia Harding, photographer Sandy Sharkey, and dancer/co-artistic director (with Mocean Dance) Susanne Chui.
Zoe Lucas
Sable Island Institute, December 2018